Solid Surface is an excellent choice for use in food preparation – with a wide variety of edges, integral sinks and coved splashes.
Corian® Solid Surface
Easy care solid surface Corian can be formed into many shapes and colors. Corian has a unique, rich, natural translucence, like fine stone. It is warm, inviting to the touch, and rewarding to live with. Corian wears well…because it is created for the way you live. Every inch is backed by a ten year limited warranty by DuPont. This superior product offers many advantages over other commonly used materials for counters, vanity tops, kitchen and bathroom sinks, bathtub surrounds, and other such surfaces. Corian can be used commercially, in the workplace, or at home. The builder and the user now have the ultimate in choices and flexibility of proven materials when dealing with Athena. We offer all available DuPont Corian® materials, colors, finishes, and sinks.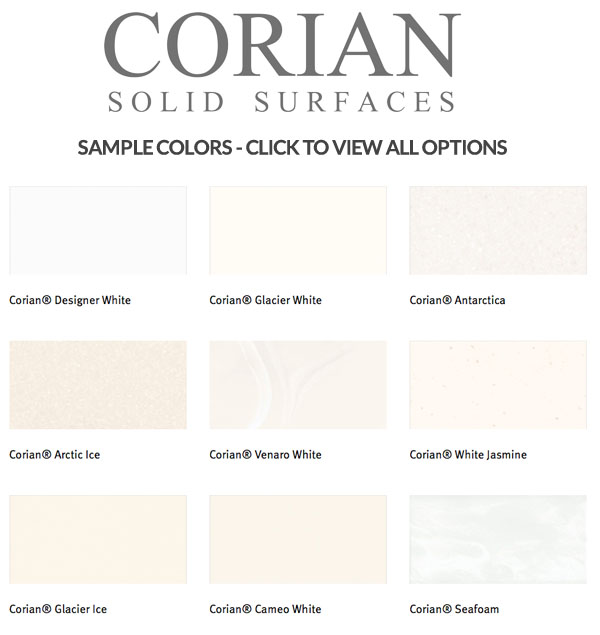 HI-MACS® Solid Surface
With strong surface durability similar to that of natural stone – HI-MACS® stands up to everyday scratches. HI-MACS® is seamless & non-porous without crevices or surface irregularities where harmful bacteria and mold may reside. Unlike other surfaces, it does not require a regular reapplication of sealants or waxes against natural pits and cracks to maintain hygienic properties. HI-MACS® can be easily fabricated, plus it supports greener earth by using sustainable material, an eco-friendly manufacturing process, and recycling at the end of its life-cycle. Fully backed by a 15 year Warranty. We offer all available LG HI-MACS materials, colors, finishes, and sinks.